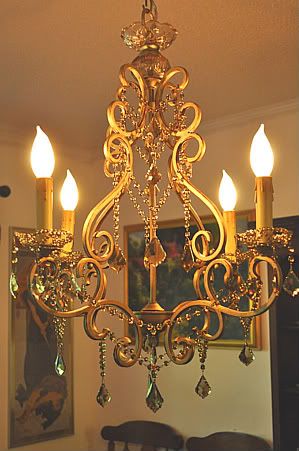 As you might have guessed from yesterday's post,
I went all out and decided to get myself
a sparkly chandelier to review for
CSN
.
I was super indulgent and now I am so thrilled that
I decided to just go for it!
The CSN website is very user friendly
as I clicked my way over to
everychandelier.com
,
I was surprised to discover how intuitive it felt
to search for the fixture that I wanted.
I simply selected mini chandeliers
and then chose to be shown my selection
according to price from lowest to highest.
Then, there was my chandelier in all it's glory.
After trying to talk myself into being more practical,
I finally decided to order it.
Thank God it was quick and easy to order and pay
because I didn't want to lose my gumption.
I was a bit nervous about purchasing
a non returnable item that was so fragile.
When it arrived a few days later,
I was thrilled to find that it had be packed so professionally
that every single piece was intact and accounted for.
I even did a little dance around my dining room
because I was so excited to put my new chandelier up.
My husband got right to it
and didn't even cuss once because the directions were so thorough.
So now, my dining room is complete!

She sparkles and shimmers in the morning light
while I eat my breakfast.
Thank you CSN for adding some glamour to my life.

Okay, I'll just go ahead and say it;

I heart CSN!